Garage Door Openers
Back To Our Services
Glen Oaks is a part of the borough of Queens in New York City. The total population of this area is around 30,000 people. Among those 30,000 or so people, there is bound to be a need for some garage door service. We are the best garage door service to serve the Glen Oaks area. We can handle everything that anyone needs done with their garage doors such as:
Garage door repair
Garage door installation
Garage door replacement
Garage door opener repair
Garage door opener replacement
Often times, the biggest problem that people run into with their electric garage doors is that their garage door openers stop working. If this is case for you, then give us a call and we can come out and either repair your garage door opener or replace it. We work with all of the major brands of garage door openers:
Liftmaster
Chamberlain
Genie
Marantec
Sears
Craftsman
We also have the three different types of garage door openers:
Belt drive
Chain drive
Screw drive
That way, it does not matter which brand or type of garage door opener you need, we will always have what you need in stock. All you have to do is call us and let us know the brand of garage door opener you have so we will know what it is we are looking at when we get out to your house.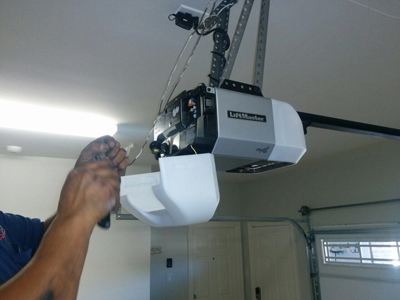 The best part about our garage door service is that we are an emergency garage door company. That means you can call us whenever you need us. There are no appointments that need to be made and you also do not have to worry about the time in which your garage door opener stops working. We are always here for you, no matter what.
Once our garage door contractor comes out and gets your garage door opener working again or replaced, we hope that you will have such a good experience with us that you will feel that you are able to recommend our services to other people that you know. We want to be the one and only garage door service that the residents of Glen Oaks calls on and we can't be that unless each and every one of our customers are completely and 100% satisfied with the work that we do for them.